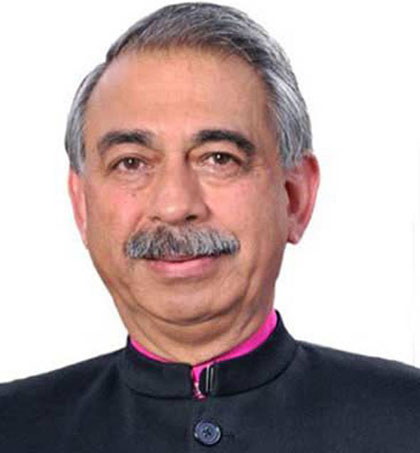 SJOBA IS 37 YEARS OLD
On 19.7.2017, the St. John's Old Boys Association (SJOBA) completed 37 years of its existence. A happy moment indeed !! Celebrations are called for. The new team has taken charge and I wish them all the best for the coming year in leading our Alumni Association which we are all so proud of.
SJOBA has come a long way from the initial 19 members in 1980 to thousands in 2017. The spirit of camaraderie and brotherhood led to the grand success of SJOBA becoming the thriving, vibrant and active association that it is. To strengthen it further, it is essential to recognize and enforce the principle that SJOBA is for the Old Boys. The outgoing team did a great job in the previous year in adhering to the aforesaid principle. I hope the new team can continue with the same. I wish them all the very best and would remind them of the slogan "ask not what SJOBA can do for you; ask what you can do for SJOBA".
I am delighted to say that the answer to all three questions, as far as SJOBA goes, is a resounding….YES!
That each one of you is a success in your own field, is a 'given'. It goes without saying that every Johnian walks tall….a triple H young man…Head Held High…..with the famous Johnian "attitude" carrying you through each challenge with elan! What very few realise, however, is that the true secret behind your success is that each one of you has imbibed the deep set of values that your school has given you, and that is what makes you truly rare in a world where friendships, loyalty and spirituality are often sacrificed and betrayed on the altar of self interest.
Coupled with this, what matters so much to us, is the fact that you love your school. It gives us such immense pleasure when you'll so actively engage in the school activities…..when you'll come back to quietly walk the corridors and the fields, reliving happy memories…..when you'll drop by to say a simple 'hello'…..when we are privileged to attend your weddings….and the day you proudly bring your young sons to be enrolled in the very school you grew up in.
May the good Lord bless each one of you and may you always continue to be the eagles that soar above the wind….majestic, royal and free.
God bless St. John's !!
Long live SJOBA !!
Mac Sarin
(M.L. Sarin)
Founder President SJOBA